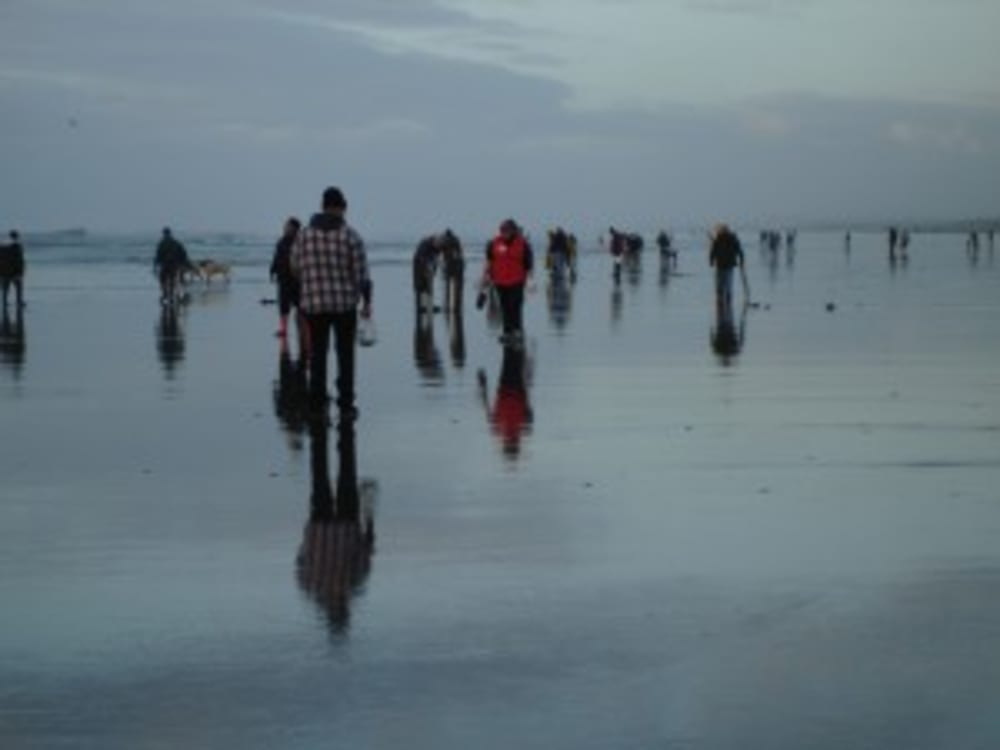 Clamming This Weekend on the Long Beach Peninsula!
March 15, 2011 by: Susan Goldsmith
Come to Long Beach this weekend and get the best of both worlds–luxurious B&B, great food and razor clamming–which is getting right down to the real nitty gritty (to coin a phrase from the 70's)! Crawl out of your beautiful, warm, cushy Boreas bed in the morning an hour or so before low tide on Sunday, then freeze your fannies off in the early morning digs and be back at the Inn with your limit of 15 razor clams, warming up by the fire with our great coffee by 9:30 am breakfast time! The first dig on Saturday is actually a late afternoon dig–so you can work up an appetite for dinner at one of our fine dinner houses! We will make all arrangements!
Long Beach, Washington will open for razor clam digging for FOUR days at noon March 19! Dan Ayres, WDFW coastal shellfish manager, advises prospective diggers to pay particular attention to the shift in digging times during this month's razor-clam opening. "It gets a little tricky scheduling digs at this time of year, but the goal is to arrange openings during the best clam tides," Ayres said. "The split schedule also provides an opportunity for back-to-back digs the evening of Saturday, March 19, and the morning of Sunday, March 20."
Digging days and low tides for March are:
Saturday, March 19, 7:04 p.m. (-0.1 ft); Long Beach
Sunday, March 20, 7:36 a.m. (-0.5 ft); Long Beach
Monday, March 21, 8:23 a.m. (-0.9 ft); Long Beach
· Tuesday March 22, 9:12 a.m. (-1.0 ft); Long Beach So get your clam digging license, required if you are age 15 or older and come down and dig some razor clams. Ayres reminds diggers that WDFW is tentatively planning another razor-clam opening April 7-9 until noon each day at Long Beach and Twin Harbors if marine toxin tests show the clams are safe to eat. Licenses expire on March 31, so you need to make sure, for the April digs coming up, that you get a new license.