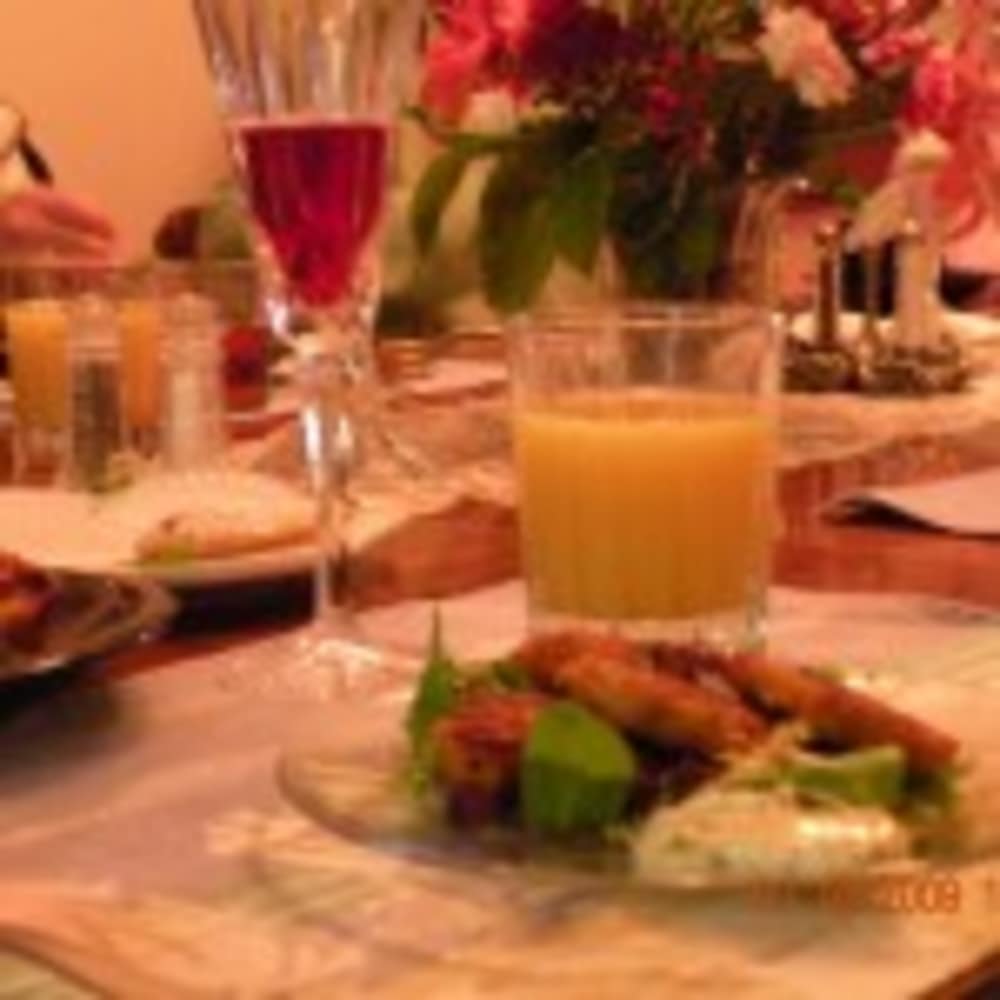 Food! Food! Gourmet Breakfasts!
November 23, 2009 by: Susan Goldsmith
Boreas Inn has been touted by guests in reviews on Trip Advisor and BedandBreakfast.com as having the best breakfasts! Here's one such review. "Starting at 9:30 and lasting for at least 1 1/2 hours, they fed us the most wonderful, tasty meals that were really "brunch". We started with fruit and sweets with Susie's homemade sauces, then we were presented with Bill's platter of pancakes, meat, fritatta, or other entree of the morning. This always held us over until we went to dinner at the best restaurants in the area that had been reserved for us in advance by Susie."
Since you will indeed be feeling well-fed until dinner time, let us set up your dinners! The Depot Restaurant's clam chowder, with each bowl beautifully hand-crafted, has been receiving the "best clam chowder I've ever had" reviews from our guests for years. It's no surprise! Chef Michael and his team steam the Willapa clams for each bowl and add the razor clams and freshly sauteed veggies just for your bowl of chowder! We love the philosophy of hand-crafted local foods, made with attention to detail with the love of the art of fine cuisine as demonstated by our local Chefs, particularly at The Depot, Pelicano, the 42nd Street Cafe and The Shelburne Restaurant and Pub.
"Dining At The Source" is what it's all about here on the Long Beach Peninsula. Fresh, local ingredients and the passion for cooking are evident not only at Boreas Inn. The variety of "the best" grilled steaks, seafood and fresh specials makes The Depot, especially when we reserve the Chef's Table for our guests, a top pick of our guests along with Pelicano Restaurant on the Port of Ilwaco. Pelicano receives top reviews for their variations on their fried fresh Willapa Bay oysters and the deliciously crisp, perfectly balanced Caesar salad, one of my favorite combinations. Order them as appetizers and you get a full meal deal for $16. Then you have room for Chocolate Pot au Creme for dessert. The most decadent dark chocolate preparation available on the peninsula. The 42nd Street Cafe has Jean Marc, the waiter extraordinaire, exotic daily changing seafood stews, pot roast like your mom used to make (well maybe….) and THE BEST sturgeon preparation when in season! I could go on and on about our local restaurants, the wait staff, chefs and dear friends who are the proprietors. You have to eat it to believe it! Experience our wild winter weather, beautiful holiday decor (going up with help from guests on December 6th) and our annual New Years' Day Crabcake and Champagne Brunch, offered at no extra charge to our guests! We will set up everything to make your stay simply perfect! We have a couple of openings left for Thanksgiving and lots of rooms available for Christmas and afterwards. Relax by the fire places and dine on the best cuisine the Pacific Northwest has to offer! Boreas Inn was chosen as the Top Five Best B&B's by KING 5 TV "Northwest Best Getaways" in 2009!