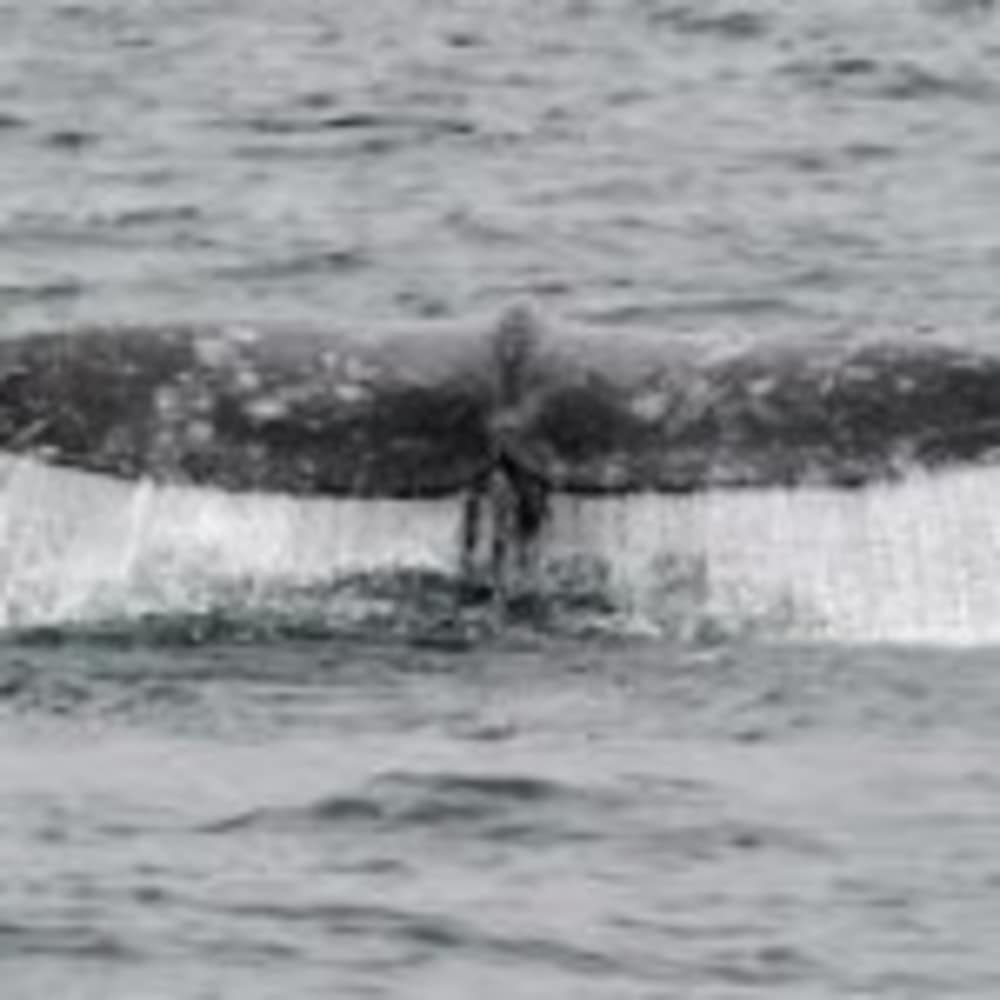 Gray Whales Cruising by Long Beach, WA
January 23, 2014 by: Susan Goldsmith
Seeing and hearing whales always causes an inexplicable joy in me. Humans are fascinated with their fellow mammals. Whales breath air, have hair, are warmblooded and give birth to live offspring that suckle milk from their mothers. Gray whales range in length from 40-50 feet and can have flukes (tales) that can measure ten feet across. Females are usually larger than males . The Gray whales weigh 50,000 to 80,000 pounds and can live up to 50 years. They can start growing barnacles even as youngsters. We've seen Grays rubbing their barnacles on the North Jetty at Cape Disappointment State Park in Ilwaco, Washington, 10 minutes from our B&B, Boreas Inn.

Two times each year, the Gray whales cruise by the Long Beach, Washington Peninsula. After spending summers feeding and fattening up in the Arctic waters, the Gray whales head south cruising off the Pacific Coast to the bays in Southern California and Baja, Mexico. You can witness this migration starting in mid-December and it peaks in early January and can usually be seen into early February.
When Gray whales are cruising by the Long Beach Peninsula, whether heading north or south, the whale's goal is to get where they are going and generally they do not hang around and feed–except for maybe some shrimp-like creatures and a fish or two. In fact, they are known to go without food for 3 to 5 months, which is why they must fatten up when in the rich Arctic waters before heading south to play in Baja. While in Baja, the whales mate and nurse their young. The gestation period for Grays is 11-13 months. When nursing, Gray whale moms can produce up to 50 gallons of milk daily containing over 50% fat. Calves can gain 60-70 pounds a day and build up their blubber quite quickly.
The Grays begin their return journey back north to the Arctic from Baja starting in mid-March. The immature whales, adult males and females without offspring head north first cruising by our coast in March and April. Then later, females with calves head north at a slower rate, passing the Long Beach, Washington Peninsula in May. So there is the possibility of seeing whales on and off for about six months of the year. We have seen gray whales in the surf-line from the lookout on Loop 100 in September leading us to believe that some Gray whales must be hanging out on the Washington coast much of the year. So maybe there are now "home" pods of Gray whales.
The best spots here to watch for whales is from the North Head Lighthouse and the Lewis and Clark Interpretive Center at Cape Disappointment State Park, a 10 minute drive fromBoreas Inn. The whales can spout up to 15 feet in the air through their two blowholes, so that is often what we see when we watch for whales at the Park. When we have gray skies, the whales water and skies are fairly close in color so the spouting is sometimes all you can see. Bring your binoculars or borrow ours–there's no guarantee you will see Gray whales, but it is fun to look. With the fabulous weather we've been having all fall and winter, this is a great activity on the Long Beach Peninsula! It's much easier to see gray whales when there is blue sky!