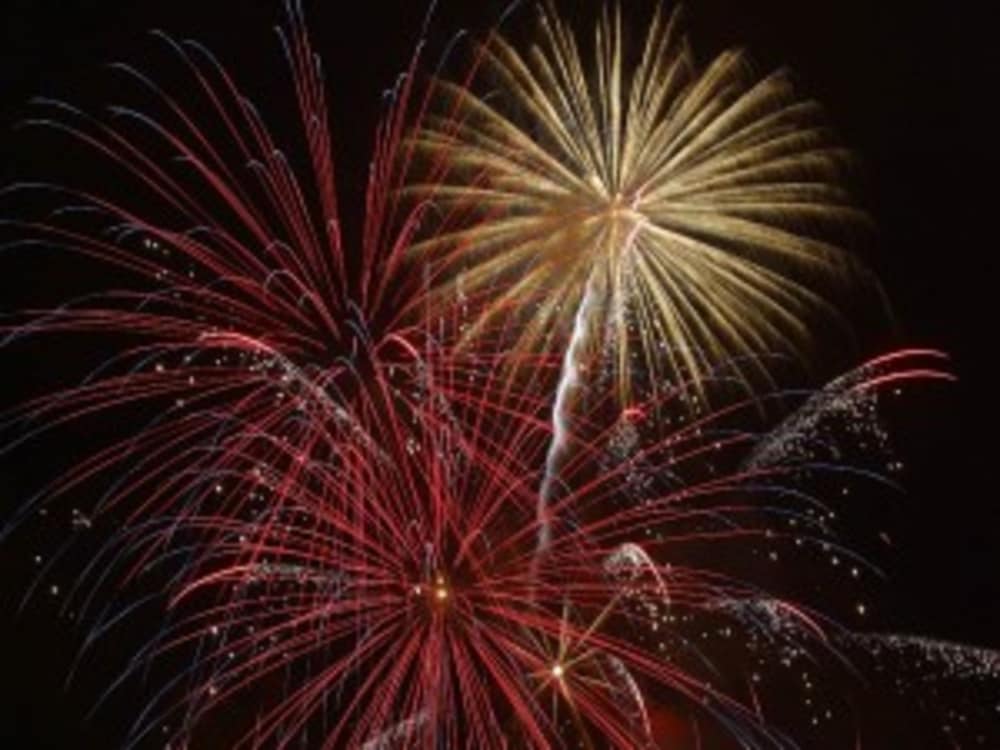 Happy New Years' Weekend–Fireworks, Crab Cakes, Champagne and US!
December 29, 2011 by: Susan Goldsmith
Personally, New Years' Eve isn't my favorite holiday. I think of doing taxes, of what I haven't accomplished this year, what I need to accomplish next year… but every year, our guests jolly me into appreciating the holiday more than I would were we not innkeepers. After all, 2012 sounds more well-rounded than 2011. I like even numbers. THERE WILL BE FIREWORKS at the beach, in view from Boreas, on New Years Eve!! I almost forgot!
The Christmas tree is still fresh and lovely for some reason (Bill takes good care of the tree!) and we haven't tired of the decorations so prettily placed by our decorating crew the first weekend in December. We had a great time decorating this year. This year was extra special with a sweet blend of family and beloved guests who are now family too. We are hoping that we fill up for New Years' weekend. We are always filled up after Christmas but not this year! Groupon and Living Social may be the reason—people shopping for bargains. Frankly, for what Boreas offers, we are a bargain! But we're offering the Carpe Diem, Walk-in Special rate starting today. $150 for luxury and pampering! Even the cottage is open this weekend.
Our guest list so far is a fun one and Odell will be here to help us dismantle the decorations if we can work around our desire to watch football…at Mark and Helen's Lost Roo, of course! Go DUCKS! Everyone is invited to take DOWN the decorations with us and go to The Roo!
Fresh Dungeness Crabcakes and Champagne on Sunday morning, New Years' Day, sounds pretty perfect for one of our FOUR courses, and Bill will do beautiful work on the crab cakes as always and I will bake pastries, whip up sauces and make the fruit entrée glow so that consuming all that vitamin C seems very sexy. Well…it is! But I hope that if it's going to be cloudy this week end, that it is also stormy so we can feel comforted by the fireplaces. But I also hope that there is a break in the weather so we can go for a fresh walk to start the New Year. We have been fortunate with fine weather this fall.
Come stay with us this weekend at the prettiest inn on the Long Beach Peninsula—featherbeds, down comforters, fireplaces, fine and fancy breakfast fare, freshly baked brownies, and the incredibly-wonderful-almost-brand-new hot tub for two with a little aromatherapy—mint and eucylptus, to soften your skin. Boreas Bed & Breakfast Inn is posh but hip, fun, but mellow and very food-crazy with a great location on the beach in Long Beach Washington. Relaxation is the best way to start the next banner year—2012! Happy New Year!