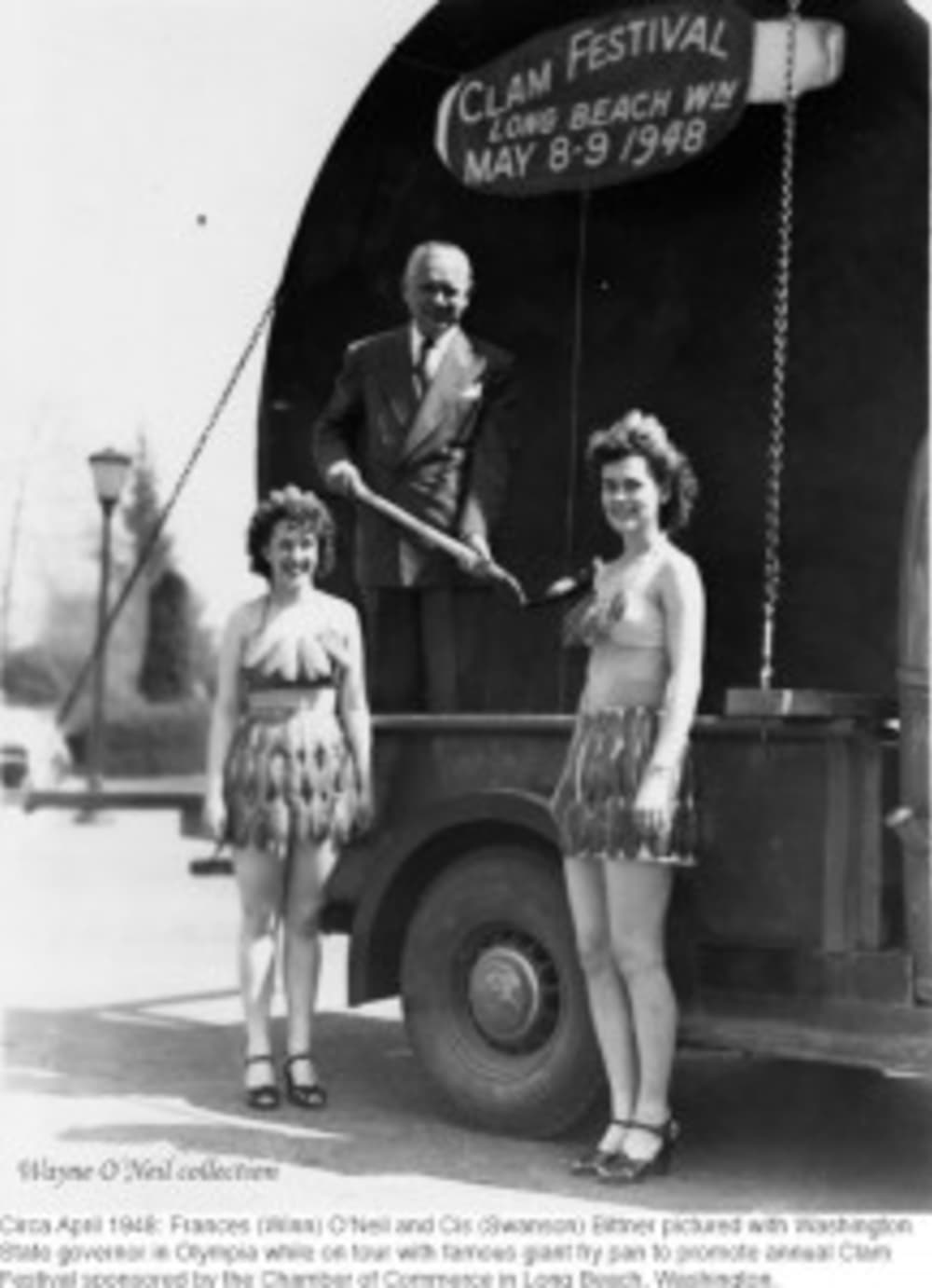 Razor Clam Festival in Long Beach, Washington April 27 & 28, 2013
March 31, 2013 by: Susan Goldsmith
Are you looking for something absolutely unique to do April 26th -28th? Come to the Long Beach Razor Clam Festival! Oh the nostalgia! My earliest memories of clam digging on the Long Beach Peninsula, when I was a toddler, were of cold, bare wet feet, soon to be numb, in the early morning. Out on the wide beach, in the wet sand, with my parents and two older brothers, I trotted around looking for dimples in the sand. "There's one, Dad! There's one, Mom!" I was too little to dig. My brothers had clam guns. We got a gazillion clams and then, the inevitable. We had to clean the clams. I was too little, for years, to touch a knife, and if you know me now, sometimes I am still too little to touch a knife! But I had to rinse the clean clams free of sand under the cold tap water in the clam cleaning rooms at whichever old motels we stayed in. My frozen fingers now matched my frozen, wet sandy feet! In the Boulevard Motel or The Lighthouse Motel…wherever our family could stay, the clam-cleaning rooms smelled the same–salty, slightly musty, very damp. Back then, we could dig all the clams we wanted. So we would clean then for what seemed to me like hours. So the razor clams we loved so much would be ground up and made into clam chowder. I turned the crank of the old food grinder–I still have one. I was never too little to grind clams. The razors made the best clam chowder in the world and my dad always took all the credit. The fried clams he produced were always considered a huge treat–way back then. I remember Long Beach's World's Largest Frying Pan being used for frying clams. It was clearly a good time.
Well- the GOOD TIMES ARE BACK! They say 20,ooo people came to the 2nd Razor Clam Festival in 1941! The last Razor Clam Festival was, we think, in 1968. Well it's BACK! The first Razor Clam Festival in around 45 years will happen in Long Beach, WA on April 27 and 28 this year! This event brings back such sweet childhood memories for me and perhaps it will be a new memory for you.
So who is the genius who re-created the The Long Beach Razor Clam Festival? Well, Randy Dennis of The Dennis Company, who happens to be one of the State's most inventive, entrepreneurial, forward thinking and nicest guys we will ever know! Events of the Festival include:
Clam Festival Court–Francis O'Neil was the "Clam Festival Bathing Beauty" in 1948–the QUEEN of the court will be here to re-start the tradition!
Razor Clam Digging Lessons- You have to pre-register for Saturday and Sunday morning lessons in front of The Breakers Hotel.
WA Department of Fish & Wildlife will judge "Biggest Clam Dug" and "Best Looking Limit" for $100 prizes!
Chowder Cook-Off–Local restaurants will compete for "Best Chowder" Trophy accompanied by music from the North Coast Blues band.
There will be Tummy Warmer Stations at the Pavillion at the foot of the Bolstad Beach Approach with cookies, hot cocoa, coffee & tea.
Vintage Clam Festival postcards, t-shirts, mugs, magnets, the Official Razor Clam Festival Poster by Don Nesbitt and other swag will be available!
There will be street entertainment by Dennis Duck, the Beard's Hollow Pirates and Queen L DeDa's Mermaids downtown on Saturday!
There will be clam supplies, weather gear and more available at the Dennis Company in Long Beach on both days.
A Clam Gun Decorating Contest is being held at the local elementary schools, the Long Beach Boys & Girls Club with public voting.

So where will you stay for this grand occasion on the weekend of April 26th? Currently there are openings at beautiful Boreas Inn, just a few short blocks from this much anticipated event! You can re-warm your frozen tootsies and laze around after your invigorating participation in this historic event–the Razor Clam Festival in downtown Long Beach, WA!
So if you're thinking of coming to this really fabulous event, make your reservations now!!!