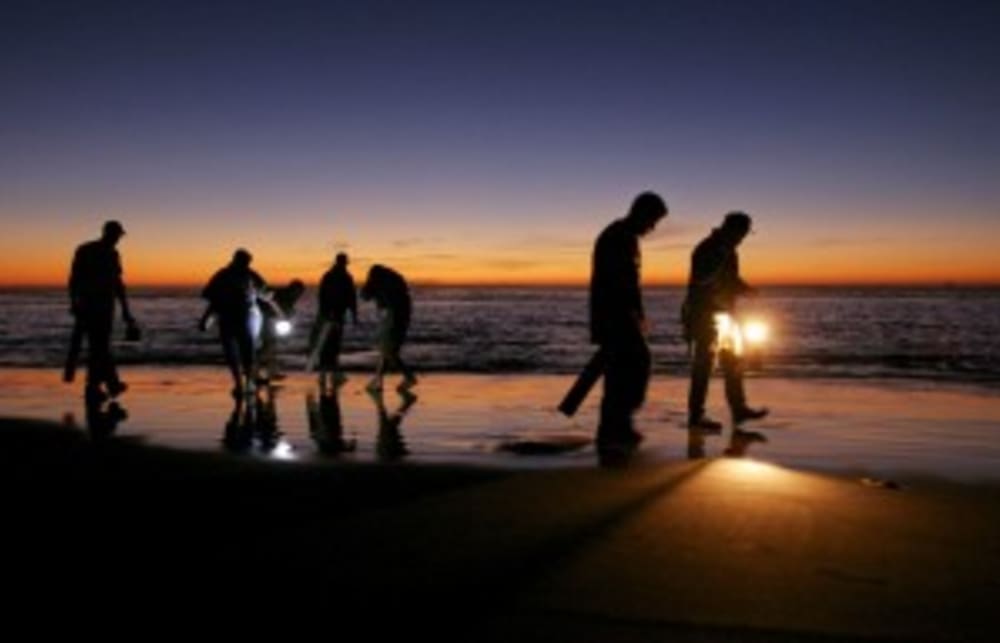 Razor Clamming Now!
January 6, 2016 by: Susan Goldsmith
Here's the good news: The Long Beach Peninsula's annual razor clam season has arrived!
The year's first dig is Jan. 7-14, with many more set to continue into the spring. This news has us grinning, and we want to share the good feeling:Razor clam diggers staying at Boreas Bed and Breakfast Inn now can have a discount of $20 per night, $179 to $199 per night including our super deluxe breakfast for two, luxurious beds and electric fireplaces in all guest rooms.

Washington's Long Beach Peninsula is the Pacific Northwest's premier razor clamming beach, and this year's harvest could be exceptional. Enjoy this seasonal bounty at Boreas Inn, which sits just yards from the Pacific Ocean and the 20-plus miles of beach that stretches north to Leadbetter Point State Park.
Envision this: Wake up and recharge with our fabulous multi-course gourmet breakfast. Take a short stroll to the beach, clam gun in hand, and choose a spot to dig along the almost-endless stretch of sand. Unearth your daily limit, head on back to the bed and breakfast and luxuriate in the gentle glow of your bedside electric fireplace.
Sound about right? We think so too.

Just remember to purchase a shellfish license before sinking your shovel or clam gun into the sand. Licenses are available at the Mobil gas station in Seaview or online through theWashington Department of Fish and Wildlife.
Boreas Bed and Breakfast Inn has everything you need to make your razor clam retreat a blast. Complementary clam gun rental? Check. Clam cleaning area? Check. Clamming tips from local pros? Check. Guests staying in our Yett Beach House even have their own kitchen to cook the tasty seasonal treats. The Yett Beach House, a 125-year-old Victorian-era sea cottage, sits adjacent to Boreas Inn and sleeps up to six. It can be yours for $150 per night and you can bring your kids and dog and cook your own breakfast in a fully-equipped kitchen.
Visitors and locals alike have been pulling razor clams from the Peninsula's sand for more than a century. Sepia photographs of overdressed men and women clamming in the late-1800s grace the walls of many Peninsula homes and museums. The "World's Largest Frying Pan" in downtown Long Beach isn't just a gimmick – it was heated up and put to use during decades-old clam cook-offs. And the annual Long Beach Razor Clam Festival, set for April 9-10, is one of the Peninsula's biggest draws celebrating Boreas Inn winter rates!
So clamming isn't just a pastime around here, it's part of the culture. And you're invited to join the fun! Give us a call today to take advantage of our Razor Clam Digger Special rates– it's a delicious deal you don't want to miss! Jan. 7, Thursday, 4:57 p.m.; 0.1 feet, Long Beach
• Jan. 8, Friday, 5:37 p.m.; -0.4 feet, Long Beach
• Jan. 9, Saturday, 6:16 p.m.; -0.8 feet, Long Beach
• Jan. 10, Sunday, 6:55 p.m.; -1.0 feet, Long Beach
• Jan. 11, Monday, 7:34 p.m.; -1.0 feet, Long Beach
• Jan. 12, Tuesday, 8:14 p.m.; -0.8 feet, Long Beach
• Jan. 13, Wednesday, 8:56 p.m.; -0.4 feet, Long Beach
• Jan. 14, Thursday, 9:40 p.m.; 0.2 feet, Long Beach
Drew C. Foster is a writer and blogger based on the Long Beach Peninsula. He can be reached at drewcfoster@gmail.com.