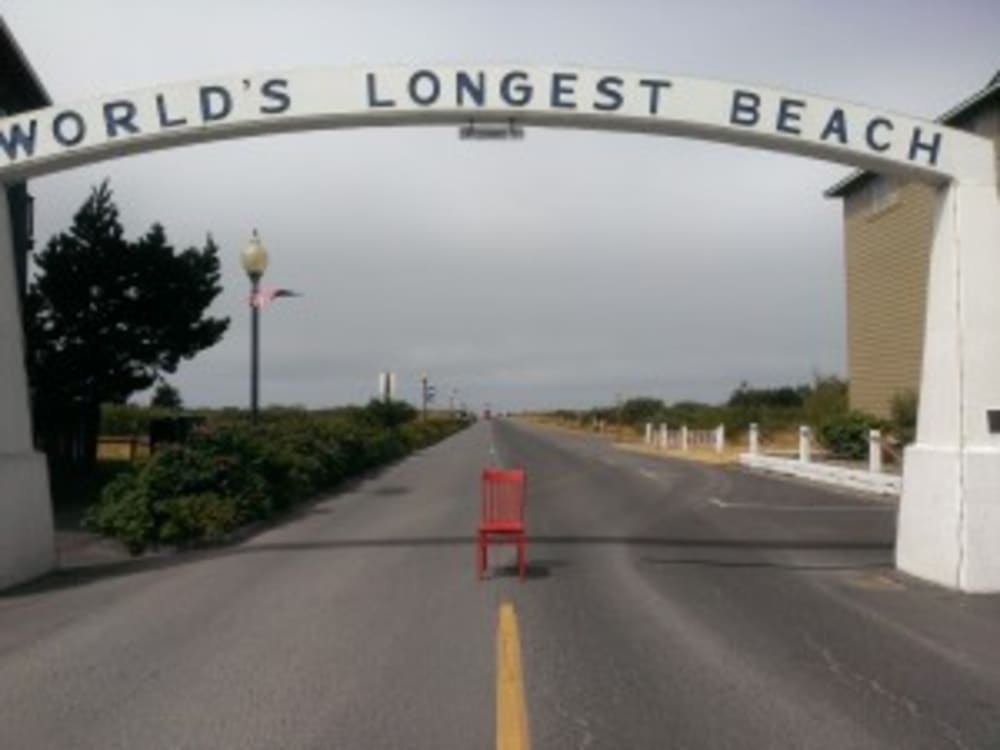 Red Chair Travels to Boreas Inn
August 8, 2015 by: Susan Goldsmith
Boreas Inn, ocean-front, in Long Beach, Washington first met Red when Laurie Anderson from the Shelburne Inn delivered her to our B&B on August 4th, 2015. It was late at night, Red looked tired, and so we tucked her into the dining room at the Inn right next to other chairs. Immediately comfortable, Red took up residence for a one-week stay with us. Guests and long-time friends from Canberra, Australia took a shine to her the next morning and asked if they could show her around. So they did. Being from Australia, they took Red to The Lost Roo, a well-known sports bar in Long Beach.
The Long Beach, Washington Peninsula is 28-miles long and often touted as the World's Longest Beach.
It may be the USA's longest continuous beach! In front of Boreas Inn is a fabulous 20-mile round-trip paved Discovery Trail, named after Lewis and Clark and the Corps of Discovery. Boreas Inn sits right on the Lewis & Clark Trail. Red met Captain Lewis and the sturgeon, a bronze sculpture on the Discovery Trail.
Captain Clark and the sturgeon are bronze sculptures on the Discovery Trail in front of Boreas Inn on the ocean.
The Discovery Trail is named after the Lewis and Clark Expeditions Corps of Discovery
Exhausted from all the travel, Red decided to take a snooze in the hammock in the back garden.
Exhausted from years of travel, Red took a rest in the hammock in the back garden at Boreas.
Red being interviewed by Carol Newman on her ARTs broadcast at KMUN Coast Community Radio in Astoria, OR
Susie and Red at KMUN photographed by Laurie Anderson
Laurie Anderson from Shelburne Inn in Seaview and I took Red to KMUN radio, our community public station in Astoria, OR and were interviewed on Carol ART program and the whole community now knows about Red Chair Travels! You can listen to the broadcast onwww.coastradio.org. The B&B's and chair-sitters the Red Chair has touched during its travels will never forget the experience of having this well-traveled symbol of caring innkeepers and best lodging properties the USA has to offer all travelers, Chair or not! Red Chair Travelsnext goes to Olympia, WA to Nathan and Casey Allen a the Swantown Inn! We meet for lunch on Tuesday, August 11th and Red will meet her new family!
Susie Goldsmith, Boreas Bed & Breakfast Inn, Long Beach, WA
www.boreasinn.com www.facebook.com/BoreasInn
Tags: BedandBreakfast.com, Red Chair, Red Chair Travels
Posted in Beloved Guests, Events, Lighthouses, Our Washington Bed and Breakfast, Uncategorized, Weather |Comments Off on Red Chair Travels to Boreas Inn