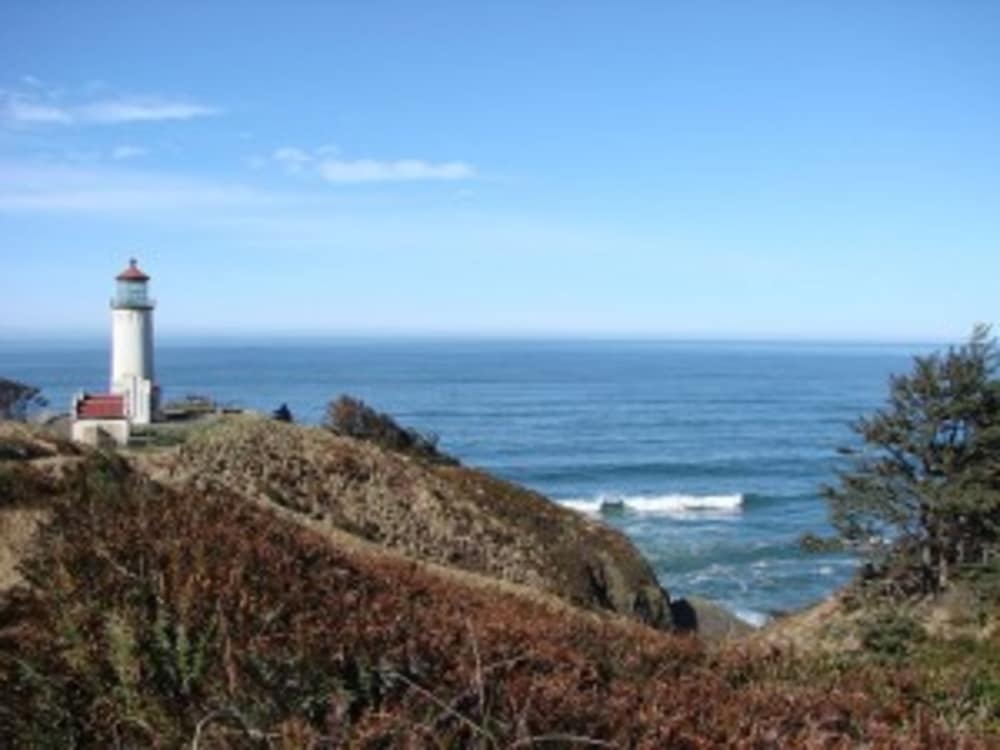 The North Head Lighthouse Celebrates 115 Years This Weekend
June 7, 2013 by: Susan Goldsmith
At Cape Disappointment State Park, a few miles down the road from Boreas Inn, in Ilwaco, Washington, there are two lighthouses, both enchanting, rugged and enduring, The North Head and Cape Disappointment Lighthouses. Lighthouses are among our favorite buildings–hardy, yet vulnerable to the hurricane force winds we infrequently have along with those driving rains we frequently experience. The lights project about 20 miles to the Pacific Ocean to guide vessels into the proper channel and hopefully away from the deadly rocks and spits of the mighty and fearsome Mouth of the Columbia River. 2,000 vessels have sunk and many have died at the "Mouth" and along the Long Beach Peninsula; more disasters than the infamous Cape Horn!
As a child, my father would take our Lake Oswego, OR 16 foot waterski boat over the Mouth of the Columbia during larger than logical seas in an attempt, I believe to drown the family. (Just kiddin'–sort of…) The waves instilled a life-long fear into this sea-loving woman. I still have dreams about my father sitting atop the seat of our ski boat crying "Wahoo! Wahoo!" as waves crashed over us. We bailed and bailed to keep from sinking. The Coast Guard would shudder, I'm sure, whenever they saw my father, who occasionally needed towing over the Bar. (I was not there for that–I would have been mortified!) I remember seeing the lighthouse beams during foggy times at sea and they were oddly, a comfort, while I tried to be brave…with my father.
That aside, this weekend, on Saturday, June 8th, there will be a long-awaited title transfer ceremony of the North Head Lighthouse from the US Coast Guard to Washington State Parks. There will be lighthouse tours, open houses at the innkeeper's residences and refreshments. The views are stunning, whales may be sighted, and a good time should be had by all. So come visit the North Head Lighthouse on the SW Washington Coast, nearLong Beach, Washington and celebrate 115 years of maritime history at the North Head Lighthouse at Cape Disappointment State Park. If you're lucky, you might snag the last room open at Boreas Bed & Breakfast Inn!