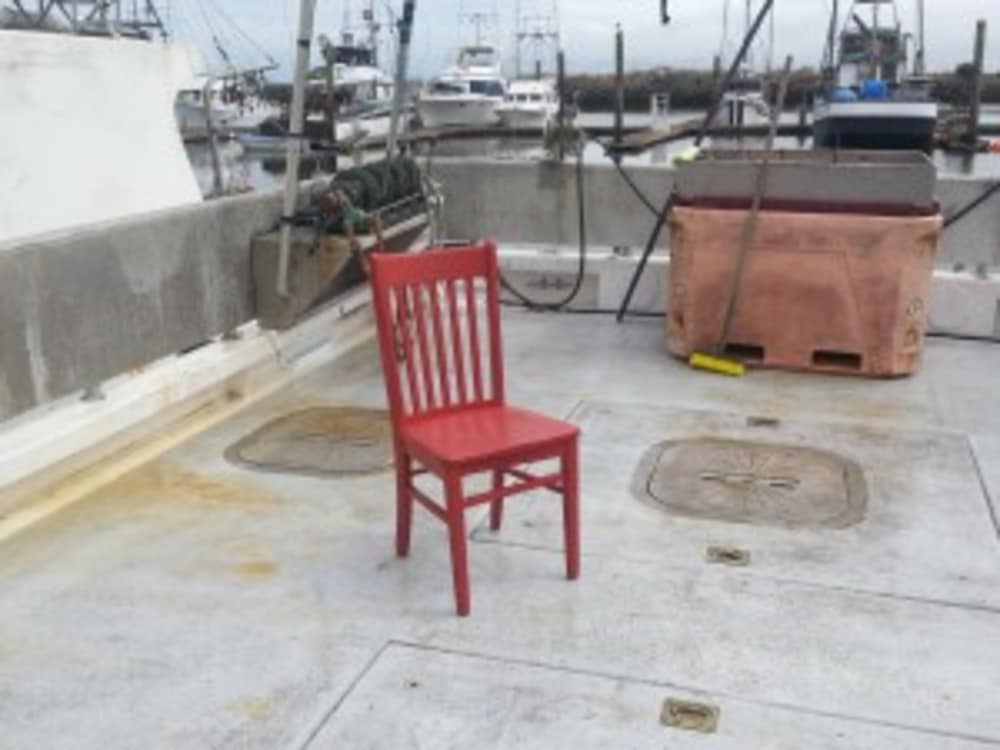 The Red Chair Goes Fishing!
August 10, 2015 by: Susan Goldsmith
Red had quite a day today hanging out with our friend, Ian Wood, deckhand on the Time Bandit from the Deadliest Catch! Red's sitting on the deck of Ian's beautiful new tuna fishing boat, FV Pacific Quest at the Port of Ilwaco, Washington. Boreas Inn's Bill Verner thought it would be exciting for Red to meet a hero from the Deadliest Catch who might soon be on a West Coast version of National Geographic's show "Wicked Tuna" with his new boat. The Port of Ilwaco is the home to the fishing fleet near the Mouth of the Columbia River, where over 2,000 boats and ships have have gone down–more than in the rounding of the infamous Cape Horn! A spectacular area for sports and commercial fishing, salmon, halibut, rock fish, Dungeness Crab are a few of the tasty jewels pulled from the sea and the Columbia River closeonly a few miles from Long Beach, Washington's Boreas Inn. This is only one of the today's adventures experienced by the Red Chair Travels!
Red also cruised to Cape Disappointment State Park and the North Head Lighthouse. Our favorite trail there, Bell's View, was on the agenda. We officiated two tiny weddings there last week and wanted Red to see the old growth forest on the pathway and the glorious view of the 28 mile-long Long Beach Peninsula. On a clear day, the Olympic Mountain Range can be seen in the distance, north of the peninsula. The North Head Lighthouse is being restored from the wear and tear it experiences in winds topping 140 mph during some of the storms we can get along the beach. The headlands, 4 miles south of Boreas Inn host two lighthouses, the North Head and Cape Disappointment Lighthouses. This immense park is one of five state parks on the Long Beach, Washington Peninsula. Cape D is the location of Maya Lin's Confluence Project that honors our local Chinook Indian tribe encountered by Lewis & Clark Corps of Discovery when they arrived at the Pacific Ocean. Clark and the Corps walked on the Boreas Inn property on November 19, 1805. Of course we weren't there yet, but that's where the ocean was in 1805! This is the last day for Boreas Inn to host the Red Chair, which will be traveling tomorrow on to Nathan and Casey Allen at Swantown Inn Bed and Breakfast in Olympia, WA! Fare thee well, Red Chair. We love you!