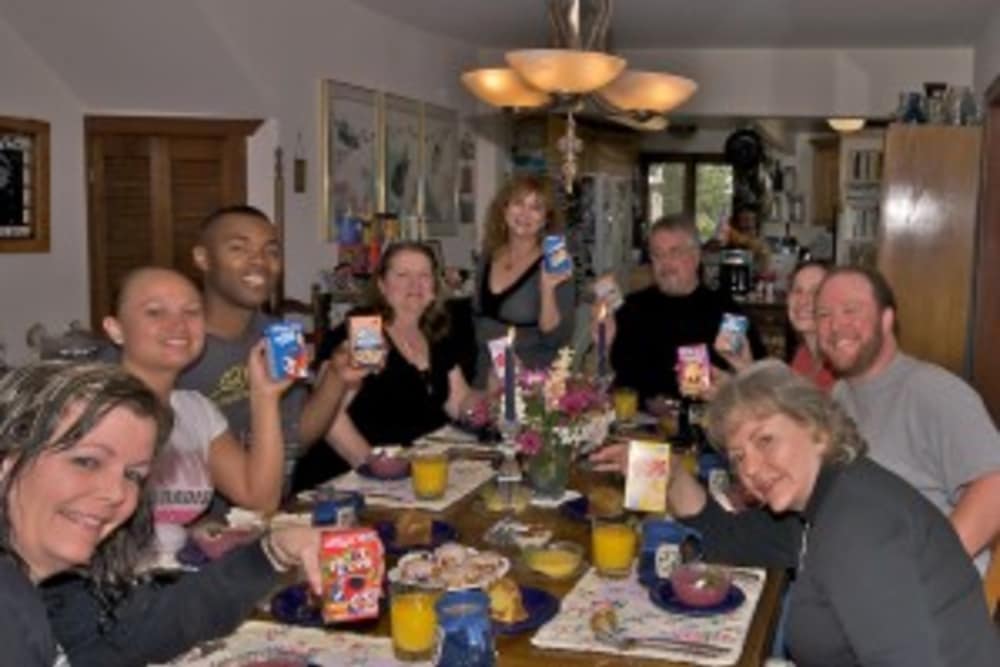 The Weekend the Hughes and the Carpenters Came to Boreas!
June 15, 2009 by: Susan Goldsmith
It was the second weekend of May and we needed comic relief (apparently!). Some folks think we're sort of picky about what we serve for breakfast at Boreas Bed and Breakfast Inn. This picture tells you everything! I told our guests that weekend about our dear guest, Tosh, who many years ago visited Boreas Inn with her husband for the International Kite Festival week. When confronted with the apparently, ominous, three-course breakfast we were about to serve her, she asked for cereal. (I'm certain that I looked surprised!) Always aiming to please our guests at whatever personal sacrifice, I had a box of Crispix cereal at our house, so I ran over and got it and served her a bowl of cereal with fresh raspberries. The next day, she got the Crispix and one course of our breakfast, and the third day, she tossed in the towel and denied herself the Crispix altogether and ate the entire breakfast with gusto and continued to enjoy the feasts for the balance of the week.
Hearing the story that fun weekend in May, guests Steve and Amy Hughes and returning guest Karen Carpenter(always with a mischievous glint in her eye) and her daughter, Lori Anne, teamed up to prank Bill and me the next morning. We arrived to cook breakfast and on everyone's plate was a box of cereal. On our cooktop was a box of Crispix. I swear that our laughter woke everyone up that morning. (Not a bad way to wake up!) We have always said that on April Fools Day, we're going to get a McDonald's bag and fill it with goodies and serve it as a first course. But, again, we're just too picky about what we serve for breakfast at Boreas Inn! The morning of the prank, I went to our house and guess what Ihad for breakfast! That little box of Crispix!