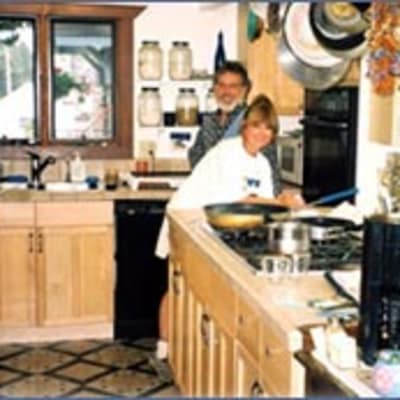 Cooking up a Storm at Boreas Inn
Savor gourmet, authentic Long Beach cuisine when you stay at Boreas Inn, a luxurious bed and breakfast on the coast of Washington State.
"We cannot find words to adequately describe the culinary experience at your Inn, but we can say we never could have expected anything as artful and sumptuous as the feasts you craft in your kitchen" Justin Cottrell
Breakfast Offers Unique Long Island Cuisine
Boreas' multi-course morning feasts are indeed a culinary treat and a joyful reason to get out of bed each morning. We are firm believers in "dining at the source" and the Long Beach Peninsula and surrounding areas are the source! Imaginative and delicious food is a priority at Boreas B&B. Bill's egg entrees highlight our local chanterelle, lobster, hedgehog, oyster & porcini mushrooms–and we serve around 12 varieties of local, wild mushrooms yearly, gathered lovingly by professional forager, Veronica Williams. Boreas features local fish caught by local fishermen from the Pacific. Rest assured, our Long Beach cuisine is as local as it gets!
Boreas pancake, baked french toast and waffle entree's are unusual and sumptuous. Ingredients may include triple ginger with pumpkin, fresh blueberry sourdough pancakes and Susie's favorite– fresh lemon chiffon with raspberries. The sauces accompanying these entrees are always clever and delicious. Susie likes to play in the kitchen dreaming up sauces. The French Toast is like a souffle and doused with Grand Marnier and almonds. Anticipation of the morning brunch is half the fun when you stay at Boreas!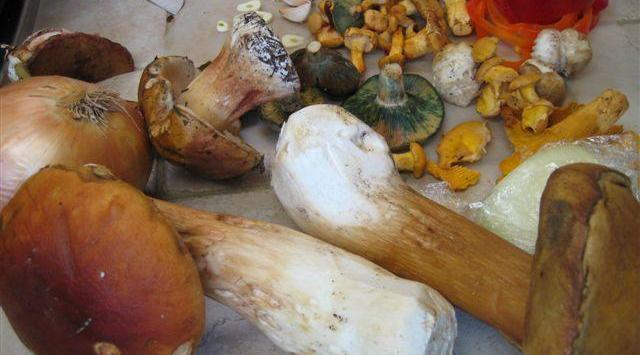 Susie's fruit entrees, which begin the meal, are a refreshing way to start your morning. Sauteed fresh pineapple in local honey and unsalted butter with whipped heavy vanilla/orange cream might start a cool weather brunch. A simple bowl of fresh strawberries or Washington peaches with a dollop of Grand Marnier creme anglaise or Margarita whipped cream is a decadent delight. Guests might also be treated to a beautiful chilled four-berry fruit soup topped with folded cream and chocolate mint from the garden. Another of our favorite breakfast recipes is Washington Stuffed Pears with dried cranberries and pecans marinated with spiced rum; a tempting, fragrant treat any time of year.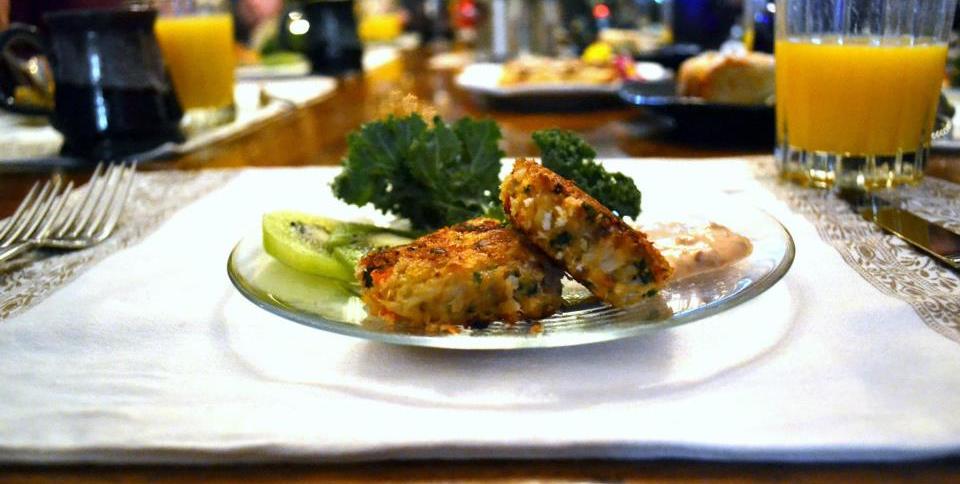 Boreas Inn breads, tarts and pastries are also baked with love, using most unusual combinations of fine ingredients. Pecans, macadamia nuts and local cranberries and other regional berries, peaches, white chocolate, apricots and fresh butter are Susie's favorite components in her recipes.
Boreas serves the freshest, smoothest organic Fair Trade coffee you have ever had. The "Boreas Blend" from Cafe Mam combines Italian, French and Espresso roast. This is coffee with a story! We also feature dozens of fine teas, hot cocoa, and lots of flavorings. The brownie platter is always filled with dark, fudgy, triple chocolate and white chocolate chip pieces of joy.
Recommended Long Beach, WA Cuisine in the Area
For evening dining, our local Long Beach-area restaurant favorites include the The Depot, Pelicano Restaurant, Jimella & Nanci's Market Cafe, 42nd Street Cafe, The Lost Roo, Pickled Fish and The Shelburne Inn Restaurant. Restaurant reservations are recommended and will be gladly taken care of for you by Susie and Bill, who will pass along any partnership discounts! Be sure to mention any food allergies and sensitivities when booking!